With TOD, enter a new era of human capital management
As human capital is the main competitive advantage of a company or an organization, TOD offers innovative recruitment and talent management solutions which highlight human values and the force of commitment of your co-workers.
YOUR GOAL
Better know your collaborators and develop a team, an executive committee, or a project team.
THE TOD VALUE PROPOSITION
Based on neurosciences and behavioral psychology, Spirit of Tod ® is an exclusive and original test for self-knowledge that identifies your natural predispositions and how you apply them to professional settings. Spirit of TOD® also highlights your main strengths, tapped or not, and enables us to introduce you to assignment or position offers that will best allow you to show your full potential.
The test can also be used to conduct a global analysis of the team in order to optimize the collective potential by highlighting each and every members' strengths. It also helps the manager create the "match sheet" by finding the talent best suited for a position based on their strengths and individual predispositions.
The answer to all the questions takes you approximately 20 minutes. You first receive a synthetic overview of your profile and then a full audio restitution (8' to 10') supplemented by an individual phone interviewed if wished.
THE BENEFITS ARE :
Identify each individual personal drivers and human values within a team and reveal the collective performance potential;
Help choosing new team members ensuing the stakes and challenges to take up and the necessary complementarity of skills and personalities forming the team
Reinforce your capacity to challenge teams on ambitious objectives and more actively support the manager or project leader.
Example of audio restitution
YOUR GOAL
Offer an inspiring collaborator experience to meet the strategic issues at stake for your company and take up new challenges.
THE TOD VALUE PROPOSITION
T2B, TOD to Business,is a software solution (SaaS) offering a unique and inspiring collaborator and candidate experience.
T2B functions are numerous and the solution can be configured to perfectly adapt your expectations:
Attract and retain the best talents through innovative management of recruitment, mobility, employability, and career paths
Increase company attractivity.
Individual and collective potential highlighting
Employee engagement booster
Well-being and engagement monitoring tool
Based on its diverse functionalities, T2B brings value for every organization stakeholder : manager, employees, HR support functions.
1. FOR THE MANAGER
A better self-understanding and a self-assessment of his/her own managerial forces and personal drivers to increase his/her impact on the team performance.
A better understanding of his/her collaborators' expectations and personal drivers and keys to help them progress and express all their potential.
A support to internal staffing assessing the match between the candidates' personalities, values and aspirations and the challenges and goals of the job position.
A monitoring tool on his team commitment and wellbeing.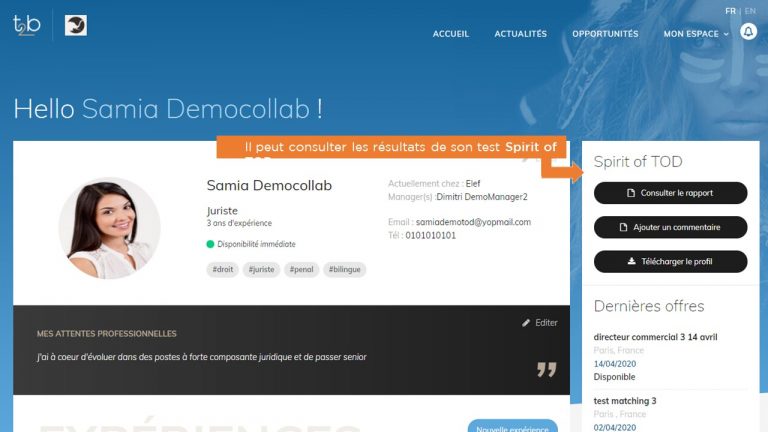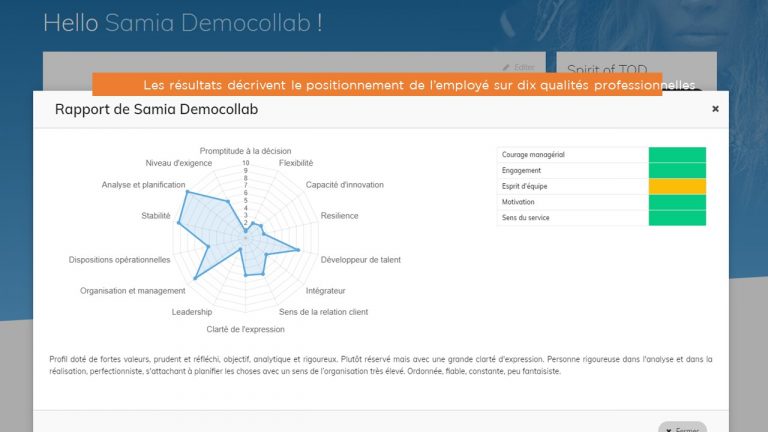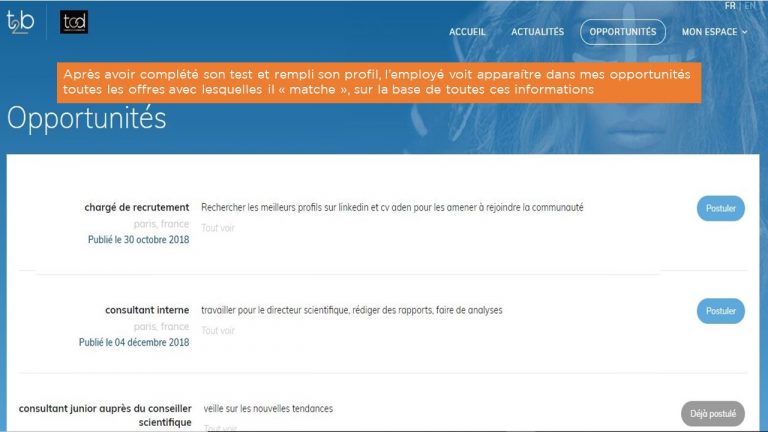 2. FOR THE COLLABORATOR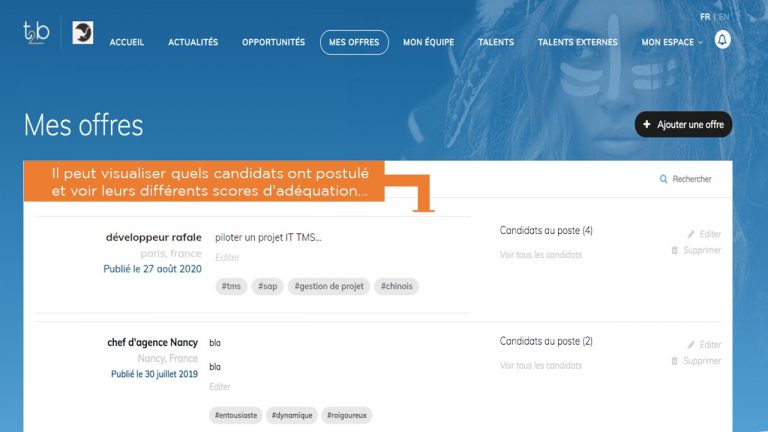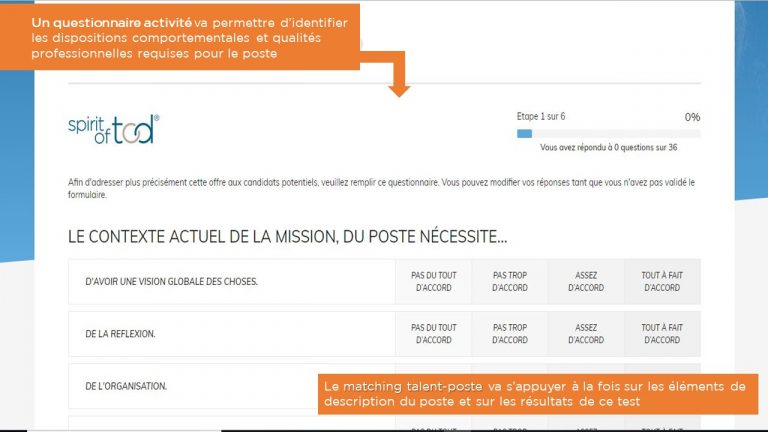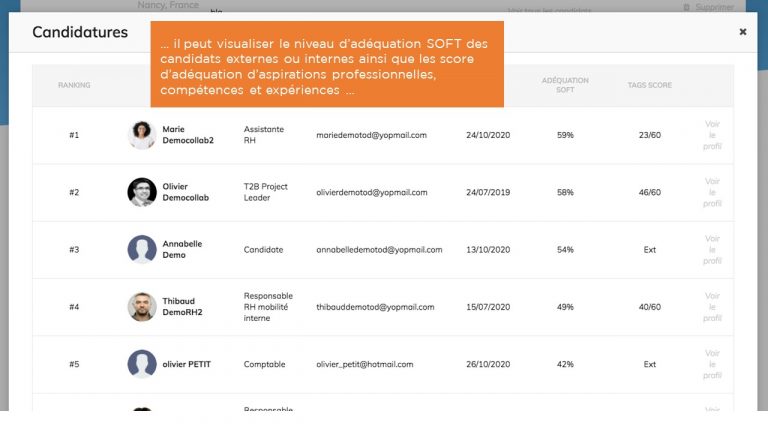 An invitation to the free expression of his/her professional aspirations.
A better self understanding to highlight his/her strengths and make them known by his/her manager
Mobility offers targeted on his/her personal drivers, aspirations and values for gratifying career paths.
An empowerment on career management.
View on his/her manager's profile and his/her key drivers.
The opportunity to acquire competencies he/she wishes to develop.
3. FOR THE HR SUPPORT FUNCTION
Enlighting the human potential of your company through a better knowledge of the commitment key drivers of each applicant as well as his/her value-creation levers.
A tool to help external recruitment decision making : sorting and filtering of external applications on their profiles, behavioral qualities and values, according to the expected jobs' requirements.
An innovative mobility management tool : allocation of internal job vacancies to collaborators according to their expressed aspirations, their values and key drivers together with the matching assessment to the opened positions.
A long-term monitoring of well-being, commitment and potential stress situations.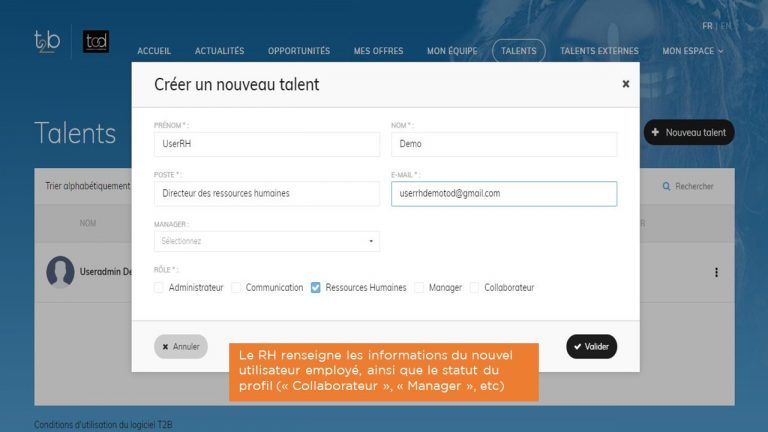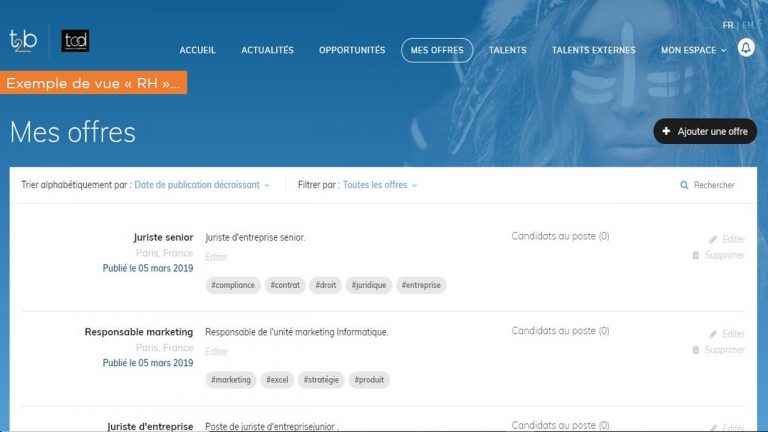 YOUR OBJECTIVE
Answer new challenges or new requirements thanks to qualified external resources ou en mission de transition.
THE TOD VALUE PROPOSITION
TOD can quickly and fully manage recruitments and present an interim manager while supporting your company on essential prerequisites:
Function or mission definition.

Job profiling.

Manager or prospective recruit profiling.

Context and recruitment as well as job or mission challenges.
Our experience feedbacks are numerous:
Ensure your company's upturn.

Support your business model development.

Support the transformation of your activity.

Launch a new offer.

Replace a director or key collaborator.

Prepare action to face a competitor.
THE TOD BENEFITS :
The adequacy of the candidates presented and aligned with the needs, values and challenges of the company.

,

Results from our 50 customers experiences :

In 6 out of 10 cases, TOD submitted the right candidate at the first attempt.

96% of TOD Talents accomplish their 1rst year against 66% on the market.

99% of TOD Talents accomplish their trial period against 80% on the market

.
YOUR OBJECTIVE
Catalyze and succeed your HR change management by integrating human values and company purpose. 
THE TOD PROPOSITION
The sanitary crisis has fundamentally transformed the relation to work : an exacerbation of individual and collective search for meaning, a deeper need for expression and attention from the collaborators, and above all the re-emphasis of the fundamental values in the society. The related challenges represent a true opportunity to transform the HR process through new solutions to bounce back from the crisis.
Likewise, the current difficulties lead companies to necessary transformations, that will only generate new economic performances when based on the human capital of the company, enhanced through smart new positioning of the internal resources. 
The benefits of TOD's support are centered around several experiences : rebuild cohesion within organization on new bases, create enthusiasm, boost commitment despite an alarming and uncertain period of time, lead the necessary transformations without putting aside some collaborators or see the best talents leaving.
YOUR OBJECTIVE
Monitor commitment and psychosocial risks with an ongoing assessment.
TOD VALUE PROPOSITION
Thanks to its "TOD skills", TOD highlights the strengths of candidates' expectations and desires, their key drivers and human values; everything that makes them resonate but is invisible in their resume, and whose sharing will create the strength of the teams. 
The self-knwoledge tool "Spirit of TOD" also  reveals what can hold them back or make them reflect upon, generate self-questioning, even punctual or contextual uncomfortable feelings.
THE BENEFITS ARE :
Identifiy weak signals on problematics met by collaborators, their state of mind, their signs of disengagement and lack of well-being. 
Spot the dysfunctions and risks before they run into serious problems.
Offer a new way to measure commitment and check it regularly.
Strenghten the support to collaborators facing difficulties on short and long term.